Individualized Therapy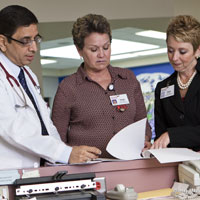 Our qualified rehabilitation experts work together to develop a plan of care that is tailored to your needs and recovery goals. Physicians will meet with you and check on your progress while a team of rehabilitation specialists will be there every step of the way in your recovery.
Rehabilitation physicians have special experience in rehabilitation medicine. They provide close medical management for each patient and supervise the inpatient rehabilitation treatment plan. Doctors who are board-certified in the specialty of physical medicine and rehabilitation are called physiatrists.
Chances are you will need a combination of therapy to get you back to living your life to the fullest. Some of those may include:
As you progress in your recovery your therapy may change to adapt to your needs. At our hospital, we are with you every step of the way to get you back to living your life.
Becoming a Patient
Our hospital provides care for those who are ready to be discharged from a hospital but not ready to return home. Treatment and care is designed to bridge the gap between hospital and home. Anyone who is limited functionally from an injury or illness can benefit from rehabilitation.
Get in Touch with Us
Contact us to learn more about our rehabilitation programs or to set up a tour at our hospital.