What to Expect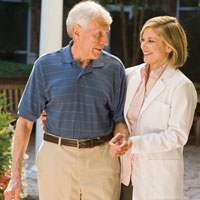 Our hospital has defined rehabilitation with positive results in mind. Your course of treatment will be tailored to meet your needs and abilities. You will be under the care of our team of qualified experts, working closely together to plan for your recovery.
Although the plan of care is different for each patient, the daily schedule follows the same basic routine.
Morning:
There's a lot of work to do, so the day starts early.
Your nurse will visit you and provide you with any needed treatments.
Nursing and/or therapy staff will help you to use the rest room, and get clean and dressed for the day.
Breakfast is planned daily by your nutritionist and physician to account for your current medical needs.
Patients typically have 2-3 therapy sessions in the morning before lunch. Your therapy schedule is provided to you each evening so you know what to expect the following day.
Mid-Day:
Lunch is planned by your nutritionist and physician to account for your current medical needs.
Afternoon:
Your afternoon will also be spent in therapy sessions.
Time for resting is provided between sessions, when needed.
Nurses will check up on you through the day, provide you with needed treatments, and help you practice the activities you learn in therapy.
Evening:
Dinner is planned daily by your nutritionist and physician to account for your current medical needs.
You have the evening free to visit with family and friends, relax, read or watch TV.
Snacks are always available. Just ask.
Nursing staff will help you with grooming, putting on your bedclothes and getting comfortable in bed.
Late Evening:
During the night, we work hard to minimize interruptions. We will check on you throughout the night and provide any needed treatments, but we won't wake you unless it's necessary.
Spontaneous events
Throughout your stay, you will receive routine visits from a physician experienced in rehabilitation.
Your case manager will also visit. The case manager coordinates your care, ensuring all needs are met and questions answered.
Your doctor and case manager are always just a phone call away.
Our recreation therapy department also provides community outings and organized activities for patients and families throughout the week to maximize the rehabilitation program through community re-entry and leisure activities.
Becoming a Patient
Our hospital provides care for those who are ready to be discharged from a hospital but not ready to return home. Treatment and care is designed to bridge the gap between hospital and home. Anyone who is limited functionally from an injury or illness can benefit from rehabilitation.
Get in Touch with Us
Contact us to learn more about our rehabilitation programs or to set up a tour at our hospital.
Patient Testimonial
You don't want to say you enjoy a hospital stay because certainly you don't enjoy it, but I knew he was well cared for.
View All Patient Testimonials »
See Our Hospital
Join us for a virtual tour of our hospital where you will see our patient rooms, exercise facilities, and more. You can also set up a personal tour by calling our hospital.